23 January 2018
di Rent.it
Campervan rental in Sardinia in the airports of Alghero, Cagliari and Olbia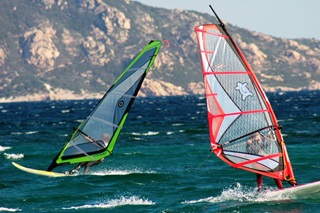 Sardinia - The Island of Winds
As the second largest island in the Mediterranean Sea, Sardinia is a hidden gem. With its long and rocky coastlines, it is the perfect island to explore yourself, as a couple or with family and friends.
The island, known as "Isola del Vento" – The Island of Winds, is renowned for its swish elite hotels, five-star beaches and being one of the favourite destinations of celebrities for an Italian get-away, not least it's offshore breezes which reduces the humidity and makes it a haven for wind sports.
It's not just for celebrities however, it is ideal for anyone looking to enjoy a few days, or weeks, away from home in the sun. For those staying more than a couple of days a campervan or motorhome can take you to some fantastic places on Sardinia that would not be possible otherwise. Watch the sun rise or set whilst sipping a glass of Italian wine from the seat of your campervan as you enjoy the local seafood. It allows you to make memories you never thought would be possible.
The best times of year to visit the island are from the beginning of May until September when you can expect long days of sunshine - typically like any other Mediterranean region. And if your heart is set on Italy for a break, Sardinia is a fantastic choice as it tends to get extra sunshine than other areas, on average some 300 days of sun.
Getting around Sardinia
Getting around the island couldn't be easier with good transportation links from airports in Alghero, Cagliari and Olbia, which make it a fantastic, and cost effective option for a short break. Driving around Sardinia isn't a problem, and making that even easier is the options for car and campervan rental.
You can pick up any previously booked campervans through Rent.it at the airports, making a simple and affordable option for exploring all that Sardinia and its beautiful towns and cities have to offer.
What to see and do
For those exploring the island, Cagliari, Sassari and Alghero tend to offer the most to visitors, however other areas further inland such as Barbagia region will provide a true Sardinian experience.
It's worth bearing in mind that some areas do close down out with the high season, so make sure you do your research before going to avoid disappointment. There are endless towns and cities to visit with the island's airports well suited to exploring different areas, each providing a unique and exciting insight into Sardinian life with lots to see and do.
Alghero
Alghero, one of Sardinia's most beautiful medieval cities is the main resort situated in the north west of the island. It is a short journey from the airport into the city, with fantastic transport options that won't break the bank. It is the perfect place to chill out and enjoy the white sandy beaches and soak up the sun.
Alghero, also known as Barceloneta, or the small Barcelona, is full of charm and features a pretty harbour as well as a fabulous coastline, perfect for exploring. It is a swimmer's paradise with many a cove to explore. A visit to the local market is a must to pick up some fresh local produce and watch the world go by.
Just north of Alghero is Neptune's Grotto, a stalactite cave, which is a fantastic day trip with many a tourist recommending the trip and returning time and again. Not only that, but Alghero is steeped in history and is famous for its 'red gold', crafted by Alghero's master goldsmiths and the local tourist information is priority to stop to be signposted to places to visit and personal recommendations.
BOOK YOUR CAMPERVAN AT THE AIRPORT OF ALGHERO
Cagliari
As the capital of Sardinia, Cagliari is situated at the heart of the Bay of the Angels, and boasts eight miles of beaches creating the ideal place for socialising as it becomes a hub of activity during the summer months with its popular bars and restaurants.
This region is well known not only for its beautiful beaches but also for its nature, archaeology and history. If you choose to visit here make sure you keep an eye out for the pink flamingos populating the capital's ponds. There is a huge amount of activities and places to visit in Cagliari – from wine tours and tastings at local grapevines; tours of beaches and walks to take in the best of the local history to discovering the local food market and venturing on sightseeing tours which can take you off the beaten track.
Whether you plan to spend a couple of days, or a number of weeks in Sardinia, Cagliari is guaranteed to keep you occupied.
BOOK YOUR CAMPERVAN AT THE AIRPORT OF CAGLIARI
Olbia
Known as the 'happy city' Olbia, is easily accessible from the airport, Olbia Costa Smeralda, which is situated just outside of the town. The town lies on the shore of a large bay making it the ideal place to gain your sea legs and enjoy a boat trip.
The town also homes the archaeological museum, as well as two churches, and are certainly worth a visit. You will find authentic Sardinian bars and restaurants tucked away down various side streets which provide excellent value for money and fantastic food.
This region provides many tourist attractions worth visiting, both on and off the beaten track and it is the ideal place to stay for a few days before moving onto some of the island's other beautiful towns and cities.
The ideal way to fully explore this beautiful island and its unique and endless nooks and crannies to gain a flavour of Sardinian life – whether that is its beaches, history or landscapes – is by campervan or motorhome. Make your holiday one to remember by booking it through Rent.it, a rental vehicles broker, which offers rental of motorhomes and campervans from selected suppliers at competitive prices.
It's easy to book, just pick your dates, select your vehicle and then book and leave for your holiday, it couldn't be simpler.